How we brought 8× more visitors to our client's blog
Does writing a blog even make sense today? Read how we work with our client and what sort of results we bring.
Spoiler: It certainly does.
Challenge accepted: write about doing business
Jake&James Accounting
partners both with corporations and self-employed individuals. It incorporates companies, provides virtual registered offices, and handles clients' accounting. Running a business isn't a cakewalk, and it's the cause of many questions for beginners, meaning
it'd be a sin not to focus on content marketing
.
That's why we asked around at Jake&James about our services, and one of the main areas they wanted to ramp up was their company blog. They had already published content that didn't really come from SEO analyses,
nor did it make full use of the blog's potential
. All that changed in
February 2021
, when we went all out creating content for them.
Our approach and solution
Now we're cooking with gas
What makes a blog successful? Readable texts with finely-tuned keywords don't come easy. First, you have to define the topics that potential clients are interested in. Enough articles already exist about nothing that were only made to appeal to search engines. Beneficial and specific content truly helps people – and whatever helps, sells. But because we knew creating subjects for articles with a team of only copywriters isn't the whole enchilada, we bolstered our ranks with a few other experts:
Dealers.

They know exactly what the target group is dealing with, what questions they ask, and what they don't understand.

Online chat. Do you keep getting asked the same questions? Then it's likely that visitors are looking for something and not finding the answers. We'll provide those answers in the form of an article.
SEO specialist. By analysing keywords and applying a content gap analysis (i.e., a comparison of which keywords are covered by your competitors, and which aren't), we gathered what content the blog should include. General keywords for services belong to the product pages, but when someone's asking how, why, or when, this creates fantastic blog-friendly material. And even more so when the buying intent is made clear by the words they use, meaning the user is searching for information with the possible intention of purchasing the service.
When we write, we don't only rely on keyword analysis; we also use other sources. There's no rule saying that only the most-searched (and often frequently used by competitors) content brings real customers. Even marginal topics are worth paying attention to.
After conducting interviews, thoroughly getting to know the target group, and rummaging through various tables, a list of topics was born that we still use to this day. We then used this list to create a publishing schedule for the next few months, before diving headfirst into writing. We keep a record of all the content in the Contesaur app, where we also regularly add new ideas each time we come across one.
As part of our collaboration, longevity was reflected in three directives from the start:
We set up the schedule clearly: 1 article every week.

For a long time.
A functional blog is a marathon, not a sprint

. That's why its benefit isn't seen immediately tomorrow (or even the day after). On the other hand, the regular creation of data-driven content works great with a timeline of months and even years (don't worry, we'll get to the numbers in a second).

Long-term collaboration works double time for the client

. And that includes the actual results as well as the fact that the longer we write about a given topic, the more we know about it. That then translates to content created faster and for less.
Old content? It could come in handy
We had nothing against the articles already featured on the blog. "But weren't they written by somebody else and sounded a bit overly complicated?" That's OK. When we see the chance to improve something, we don't shy away from the job. Or, more specifically, republishing, which boasts a great "time : performance" ratio.
What're we talking about? Well, we used Google Analytics to find that some of the older articles had an interesting number of visitors. That's because the topic was chosen well, however, they could still do with a little facelift. Brush out the phrases, add a bit of information, seek out and incorporate the relevant keywords, or simply update the content "out of necessity", because it's no longer in style (law amendments never sleep). These sorts of changes only took us a few hours, and immediately several articles shot to first place in the search results. Google just loves a good update!
Example of an older article that we updated in April 2021. The graph shows the number of users who visited this article via organic sources (Google, Seznam, etc.)


High-quality, useful content isn't only made by our hands. We define the topics and write the texts so that the target group can understand them, and so we can guide them to the client's commercial objective. But, first and foremost, by working together with others, we can get the most out of the content:
Experts on the client's side.

In Jake&James' case, this includes trade professionals, accountants, and tax specialists to guarantee the factual correctness of what we create. The internet already has way too much unverified dead weight, for us to publish anything that hasn't been properly vetted by experts.

Proofreading. Every typo and missing comma are snuffed out.
Graphic designer. They create images for the articles, banners for the website, and infographics that we then fill in with text for improved intelligibility.
A blog was made that drives results
It didn't take long for us to see success. That's how every section with an evaluation begins! It really is true that with blogs, good things come to those who wait. That's why we publicly assessed our cooperation after 2 years. We monitor performance every month internally so we know how things are evolving, and what needs a little more work.
After 2 years, we published over 90 unique articles and retroactively improved countless old and new articles. In so doing, we supported their position in online searches and ensured that blog visitors are reading current content.
Since January 2021, we multiplied the number of readers from organic sources by 8, making the blog a significant part of the website's organic visits, which then gradually surpassed the paid number of visits.
But we're not done yet!
A high number of visits is a great thing, but that alone doesn't make money on the company's website. What's important is that the client receives more and more inquiries. Potential customers display interest in Jake&James' services not only by filling out the contact form but also via the online chat, which they love to use to direct people straight to the articles.
The development in the number of messages using the client's online chat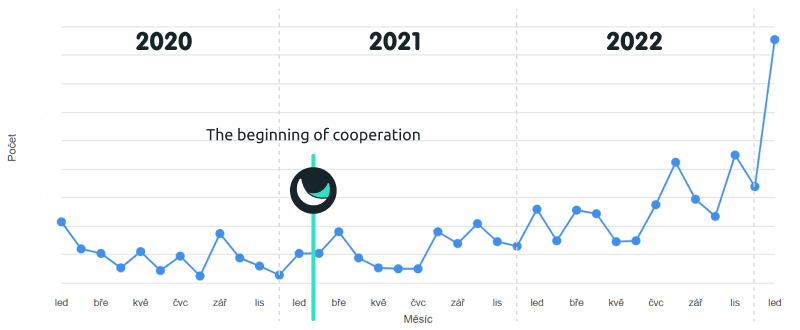 We use the content to reflect the client's commercial aims; when they want to focus on a certain service, we give it recongnisable support. We also write articles that match the needs of the dealers and support team, which they in turn use when communicating with customers, thus saving them time. Thanks to regular blog publications, we even have an easier time preparing content for the website, because we always have something to draw from.
A good blog has a direct impact on commercial results and enables businesses to free themselves from relying on paid advertising. Oppositely so, if articles are created with zero plan or relation to the company's goals, with no knowledge of the target group, products, or purchasing phases, then the result is simply an expensive read without any real benefit.
Tired of wasting time and money?
Then write to us, and we can quickly create a functioning blog for you, too.
Let us promote your product
Stop worrying about your marketing. If you would like to see what we can do for you, leave us a message. We'll promptly get in touch and get the ball moving.